This month I've made a cute bucket style bag and it's being modelled by young Tommi. Yes this bag is made for me to use and Tommi agreed to this photo shoot. Cute bag, cute dog.
Sacotin bag patterns have quite a few urban style bags that are just begging to be made from Minerva's fabrics and bag notions. You don't have to go internet search to find the fabrics and notions you need to make a sharp looking bag called Calypso.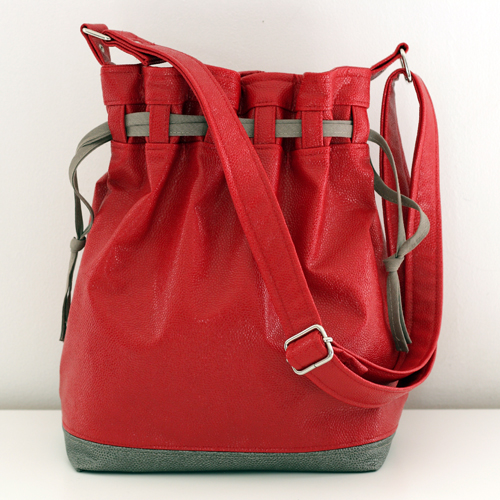 Minerva has an extensive range of notions including bag notions. Your creative flare will be at an all time high when you begin searching for the various bag hardware available. I pretty much stuck to Prym products for this bag. Prym has been producing sewing notions for hundreds of years and they're consistently reliable for every bag I've made.
After spending a few hours making a cute bag that looks like it's from a cool craft market, you don't want to wear a frown when the metal rings, bag feet or zippers fail.
Bag hardware choices
At the moment, rose gold hardware is in fashion so this might be what guides you to choose your bag notions.
Bronze hardware is a safe choice if you want gold but you're not sure how 'gold' the metal looks.
Silver is a good basic style to get if you're dabbling into bag making.
Then there's the ring choices – rounded, square, D-ring.
Fabric choices
What I enjoy with Sacotin patterns is you have the ability to more than 1 size with their patterns.
This bucket style bag can be made if you only have 1 colour choice or print.
I went with this 'practical' fabric choice.
The dark denim is the base colour so it matches the bag strapping. I've chosen Prym cotton bag strapping as I prefer this texture to the plastic type of strapping. It's also a heavy and firm strapping so it will last longer and take the weight of an overfilled bag.
Having a dark colour at the bag base is a good practical decision. As is using metal bag feet on the bag based. Don't the bag feet look marvellous.
Back to the fabric choices.
You can't go wrong choosing Cloud 9 fabrics for this type of bag. This Cloud 9 print is bold. It's also a good colour match with the denim. The fabric itself gathers nicely when the bag is closed.
While I understand that bags have black internal linings, I can never find what I want especially when all of my accessories are dark. I chose this light blue cotton with tiny polka dots to make the inside of the bag look just as pretty.
Bag strap webbing
Here's where I should have paid more attention.
I started my fabric search based on the dark blue Prym bag strap webbing you purchase in 3m lengths. This is a good length to buy and there are 10 plain colours to choose from.
Then I looked at the multi coloured bag strap webbing options and my creative mind was in heaven. Yours will be too.
What skills do you need to make a bag?
Cut fabric
Iron fabric and interfacing
Sew a straight line
What skills do you need to create an amazing bag?
A passion for fashion
A creative mind that is always open to new style ideas.
Do you notice the dragonfly on the bag?
This is one of a range of appliques Prym produces. This is the second Prym iron on applique I've used and I've been really happy with how easy it sticks to the fabric. I'm always impressed with the quality too as the first one I used has rhinestone lizard I used is still complete and sparkles nicely. There are no signs of wear and tear.
This is such a lovely everyday bag I can wear easily – whether it's just a quick walk in our neighbourhood or to the local supermarket.
You'll definitely find this post and more on my Minerva Brand Ambassador page. I love sewing for Minerva and sharing my makes with you.