Don't ask me now long ago it was, but I attended a community college class to get a few block patterns set up for me. I used one of these block patterns to play with this zigzag poly cotton print. The fabric comes in 15 colourways from Minerva.
The block pattern I used is a no-dart block pattern that you can use for knit or woven fabrics.
My sizing has changed over the years and right now this block pattern works on my current body size.
I can say it pays to make sure you use patterns that fit your current body shape. Spending up to a day to make a top and then realise it doesn't fit is a recipe for tears.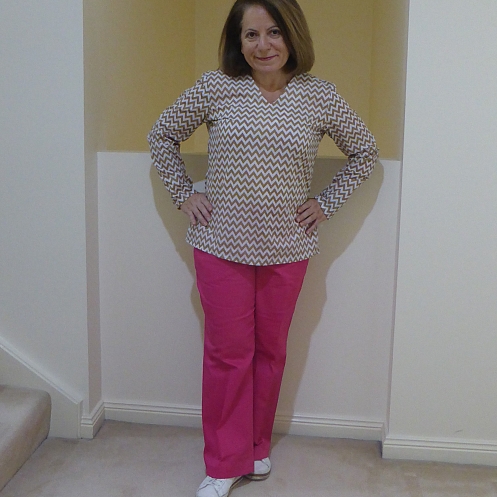 When you buy new patterns, do a test run with the size you think suits your current shape and then you can tweak the pattern and your next version should be a successful experience.
Sewing is your superpower so why not make a test version first before you cut into your 'precious' fabric.
I chose this zigzag print for two reasons.
I'm changing my wardrobe basics with tops that are more relaxed in fit.
The other reason I chose this colourway is because I think it would be nice to have some basics in calmer colours for my basics.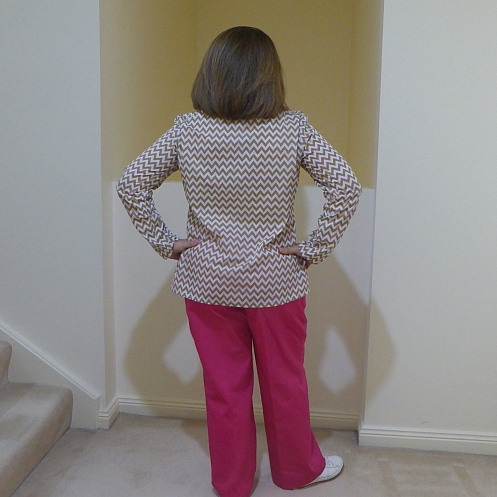 In the Summer, I prefer to wear loose, long sleeve tops to avoid sunburn and being a food source for mozzies.
This fabric is easy to wash, dry and iron. Be aware this fabric is 112cm wide so you'll need to order enough length for your torso and then enough length for your sleeve and any additional pieces like cuffs, collars or other embellishments. You might want to make puffy sleeves or have large ruffles on the sleeve.
This fabric would be wonderful with any type of embellishment.
Because the fabric content is poly cotton, pressing the fabric is easy and doesn't need to much strength to get a great finish.
My block pattern has a basic round neck, so I measured the centre front distance from the mid neckline to my bust apex for the v-neckline depth. I also make sure the v neckline from the shoulder line start 2cm from the basic block neckline. It sits more naturally when you make the top of the neckline wider than the block pattern.
This fabric is finished nicely with French seams.
I love how this block pattern is easy to adjust and this fabric makes these adjustments a good experience to keep playing with this block pattern.