Jumpsuit have come into their own and Style Arc's Brice knit jumpsuit is versatile and great for seasonal changes. For me, jumpsuits that give you room to move are a treasured part of my wardrobe.
You get to choose the jumpsuit version or the knit dress version. You also get to choose either of these versions with or without sleeves.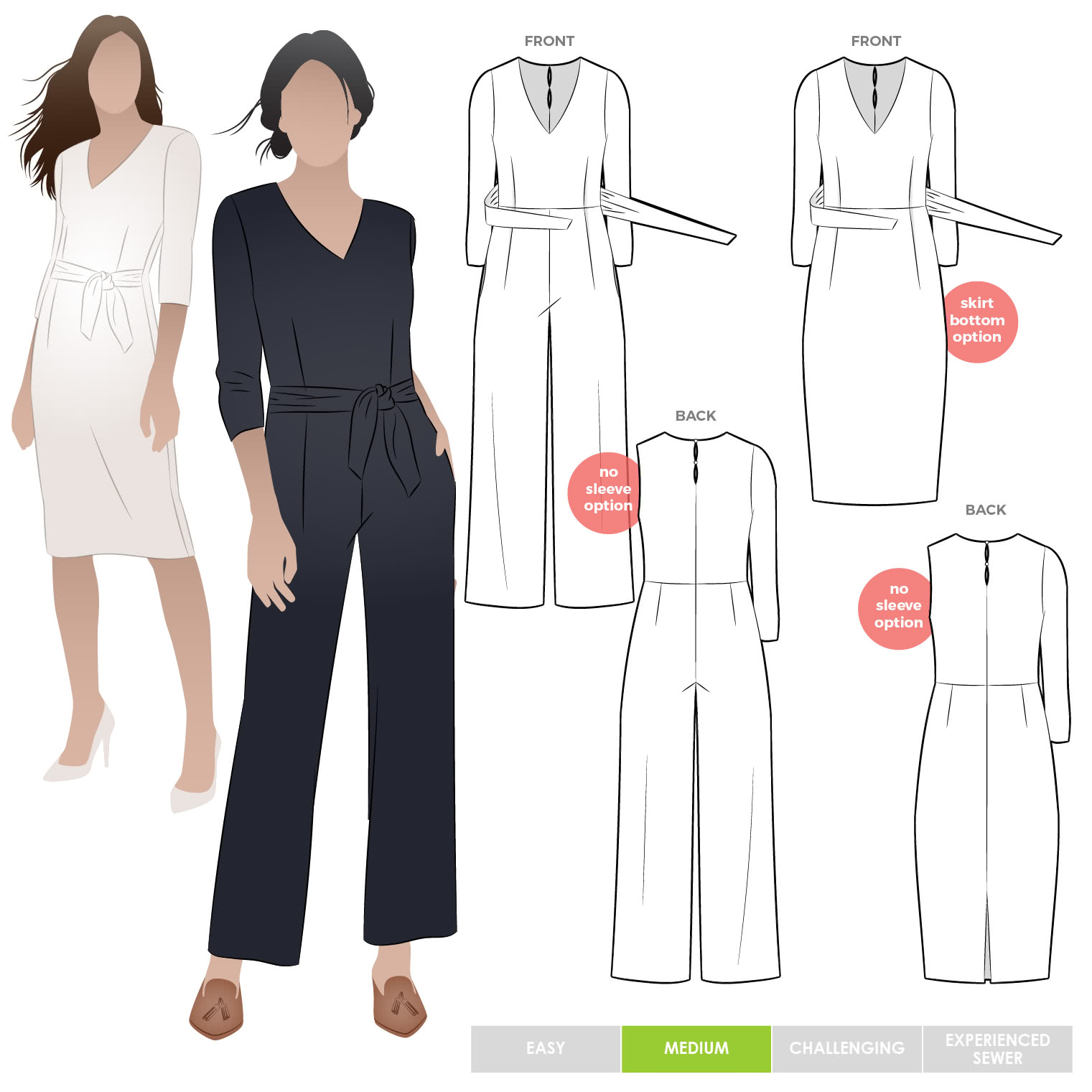 Once you've chosen to make either the jumpsuit version or the knit dress version, then you can either add sleeves or not.
This pattern is designed to save you time and get you a new garment fast. There's no zipper, just 2 back buttons to hop in and out of the jumpsuit/dress. I'll be extending the back neck opening on my next version because I can just wiggle out of it.
This pattern has a flattering waist tie that sits just below the waistline to cinch your waist. Style Arc have also added a flattering design feature where you apply a slight amount of elastic at the waist so the bodice sits comfortably against you. I used the suggested amount of elastic Style Arc lists and it's very comfy without feeling restrictive.
For me the real dilemma was choosing from the huge range of knit fabrics Minerva Crafts offers. It took me an hour to figure out what knit I would use for this jumpsuit. Have a look at the light-weight knits as your starting point.
The pant leg width on this pattern is roomy so I ended up choosing a floral single spun stretch jersey knit dress fabric in teal. I liked the idea of adding a teal into my existing wardrobe basics and this floral fits in quite well to my me-made wardrobe.
You can see that the print is huge. I love fabrics with large prints. They do tend to swallow me and I love that I can 'hide' in them.
From the finished measurements provided on the pattern, I simply removed 6cm from the leg length to cut the perfect finished pants leg.
I did a sway back adjustment to the centre back pants seam. The other adjustment to the pants is to lower the back crotch so it doesn't ride up where it's not supposed to.
Sometimes you can forgo adding interfacing to knit fabric facings but this pattern has a better fitting neckline when you use an interfaced facing. The neckline didn't' need to be pinched out to sit flat on my chest so that's a big tick to Style Arc.
The only adjustment I made at the shoulders was a forward shoulder adjustment. I added tricot tape at the shoulder seams to keep the shoulder seams reinforced. Tricot tape holds the shoulder shape so they won't sag over time.
Style Arc patterns have a lot of good information to help you adjust their patterns to fit your body shape.
Their pattern sizes start at 4 and includes up to size 30. That's really good value if you're just starting to build your pattern collection. Having this range of sizes also helps you grade their patterns more sharply to your shape.
If you're into accuracy and want to match prints, Style Arc patterns provide the stitching lines on all of their patterns. This is so valuable when your matching obvious prints and stripes. In my case this print let me get away with print matching. If the pattern print had been small, I would have enjoyed print matching using the stitching lines on Style Arc's patterns.
I did try to place the big flower on the front and back bodices. The prints on the pant legs match so this print had a very useful repeat for my size.
I thought it would take me 'ages' to make up this jumpsuit but it is very fast to make. I shouldn't have stressed so much. Now I want to break out another Brice jumpsuit.
Thanks Minerva Crafts and Style Arc for another great jumpsuit!
Now to get back to my sewing list!