My gym gear gets lots of use and right now so this blog post will start from the last pieces I made last month as part of Pattern Review's activewear contest.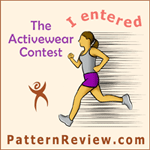 I know it's hot and humid but jumping because I love sewing my own activewear.
The key reason I enter contest run by Pattern Review is to motivate me to make those pieces I've been thinking about but haven't had the motivation to make. They're not all great but I know for certain if they work for me or not.
The Pnema tank by Papercut patterns has been in my pattern library for a few years now.
On the left is the dress version I made after I made the tank top. The instructions were easy enough to follow even after stressing about this pattern for so long.
I'm happy to show you share this inside view. Finishing the bra section using elastic to finish in the edges suggested in the pattern looks untidy.
With my limited lingerie knowledge I used plush-back elastic on the bra and picot edge underwear elastic edges on this tank/dress.
Here's how the tank looks on. It's ok but not great and I can't get the support I need from the bra to be able to wear it for running. Nope. But the bra is fine for no-impact sports.
Here's how the second version looks using lingerie elastic. The finish is neater.
I know… this is going to be a beach dress.
The bra pattern was too low so I had to shorten it so my bust was less gravity-affected.
All of this fabric was sitting in my stash waiting to be used and I'm glad to have used the contest to finally use this pattern.