One of my classic coat patterns was earmarked for this embroidered denim fabric. So maybe I was too conservative using Burda 6772 but it worked out so well. The jumpsuit Elizabeth made with this fabric made me want to use it. Isn't Elizabeth fab!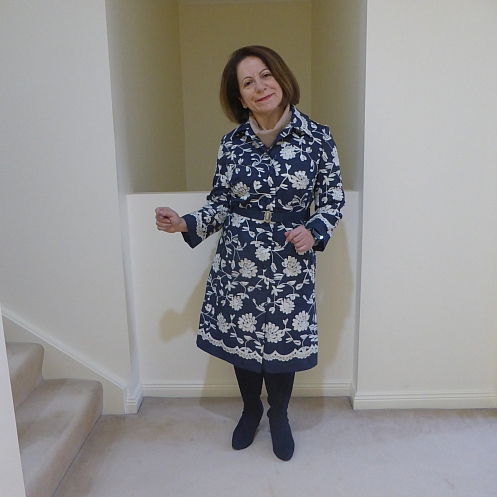 The embroidered border was my focus. Where do you put such a gorgeous border on a coat? Any where you want is the right answer.
I loved figuring this part out for this classic coat.
I used the border on the collar.

The border was also destined to be placed at the hemline. Hems are not my strength so I was really happy when I could place the embroidered border at the hem.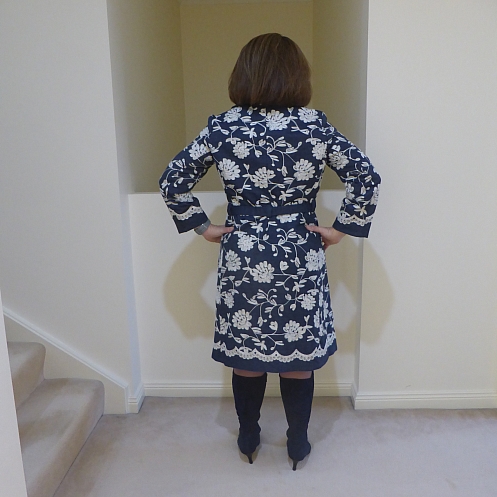 This is a classic and I've made it a few times now. This coat has simple design lines and the skirt base gives you good walking space without needing to sew a refined pleat.
This denim is a decent coat weight so I knew this coat style would suit this pattern.
When you look at the lining, you'll realise this is a fabric remnant from the paisley lining you can buy here as well.
There are 30 paisley lining colours to choose from and I was lucky enough to have some leftover from a jacket I made a few years ago. I can't get lining like this locally and it's now come in really handy.
The lining is a great quality. It irons and sews really well too.

The denim is a good coat weight and it sewed really well with the embroidery as well. I didn't use a special machine needle as both the coat fabric and lining are very stable woven fabrics. They're a great pairing.
You'll definitely find this post and more on my Minerva Brand Ambassador page. I love sewing for Minerva and sharing my makes with you.