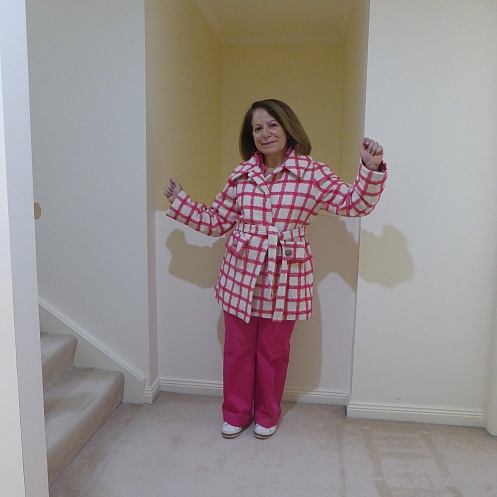 McCalls 6657 is my other go-to coat pattern when there's some serious pattern matching required.
This deadstock lurex wool coating is a great wool acrylic blend. This deadstock fabric comes in 4 colourways and this is my year of pink, so I chose the pink colourway.
This wrap coat pattern is a forgiving pattern and is a brilliant working from home style. I've worn it to the office when I had to get my laptop fixed during the Winter months.
Coats are a good layer for changing seasons and weather conditions.
Making coats are my weakness so when there are great coating fabrics on offer as a Minerva brand ambassador, I tend to give them a go. Honestly, you only need one or two coat patterns that work for you and you're set to make any coat you like.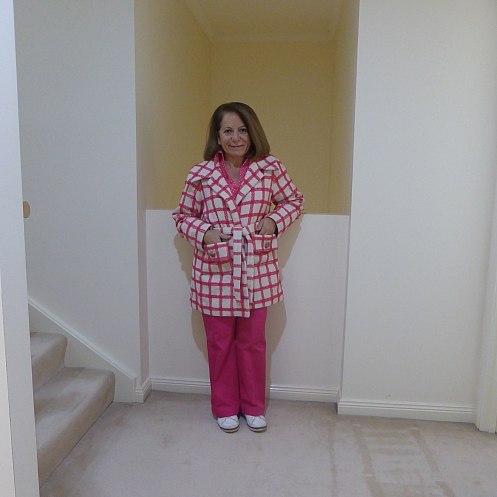 The lovely thing with this fabric is that it's also a good choice if you decide to make a French style jacket. The plaid woven into this fabric make matching an easy enough challenge when you're cutting out the fabric.
For the price of this fabric, you can afford to buy a bit more so you can make sure each pattern matches.
As I was cutting out this fabric, it was easy to line up the plaids across the body as you only have to match the side seams. There are no inner seams to match on the body of the coat.

When you're cutting out the sleeves, line up the front plaids and make sure the sleeve plaids are lined up with the sleeve grainline.
This deadstock fabric is very affordable and I was able to use a couple of buttons from my notions stash for the pockets. My lining was also stash fabric.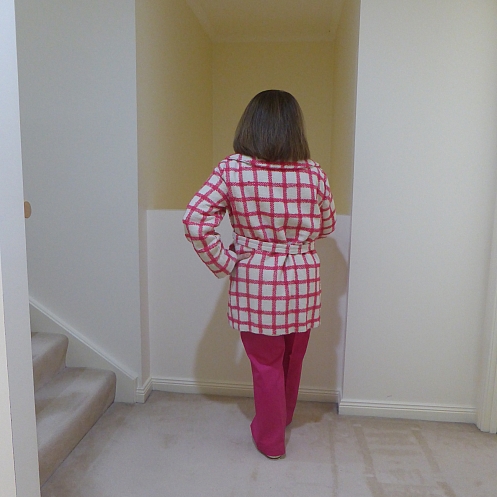 I had a bit of fun creating the coat belt based on the fabric weave. Once side of the belt has the pink plaid dominate. The other side of the belt has more white than pink on it. This was worth experimenting with.
I'd encourage you to experiment when you try using one of these lurex coating fabrics. The wool content makes this a very good fabric purchase when you decide to take the plunge and make a coat this winter.