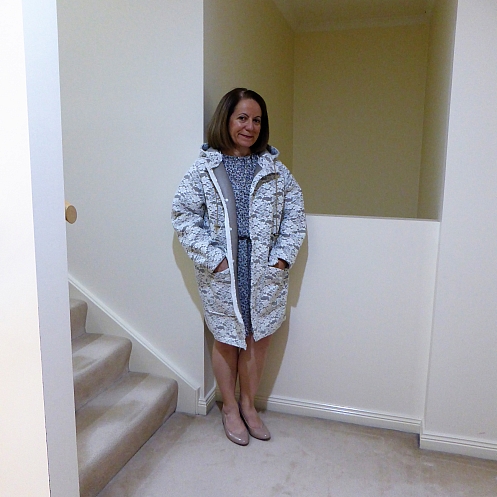 Lace coats are gorgeous so making this lace neoprene into a rain jacket was a thrilling project. I've used Stoff & Stil pattern 89000-02 that I bought in Cologne in 2019.
I was visiting Prym HQ as they supply their fabulous products to Minerva. Prym have such reliable notions that I was absolutely thrilled to be their guest for a day. So it made perfect sense to then use this fabulous fabric for the most stunning raincoat ever! Yep. It's the best fabric for a totally stylish raincoat.
In case you are interested in being kind to the environment, this is deadstock fabric.
In case you have a limited budget, this fabric is super affordable and is 144cm wide
In case you avoid seam finishes that take so much valuable time, this fabric needs no seam finishes.
Have I convinced you about the amazing features of this fabric?
At the time of publishing this review, this fabric comes in 4 colourways.
This is such an interesting coating to get your creativity flowing.
This pattern comes with coat facings. I didn't use the facings because the inside of the fabric is firm and feels smooth against your skin.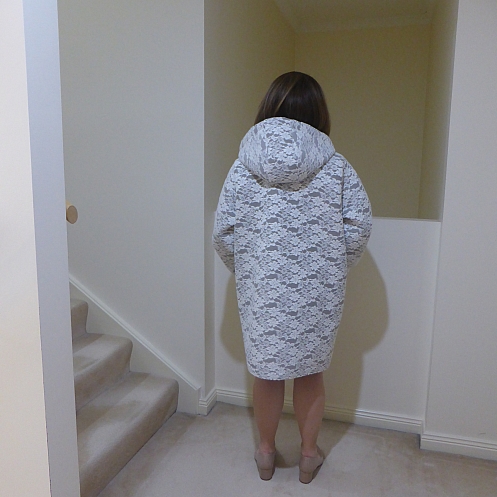 So you'll also realise this fabric doesn't need interfacings.
What I like about this colourway for a rain jacket is that you can see it against rainy grey days.
Neoprene has limited breathability, but this fabric has more breathability than you would think. I can wear it when it's raining and the air is humid.
There's no real fitting required because rain jackets get worn over many layers of clothes.
I did make sure the pockets were a wee bit higher than the pattern markings so I can use the pockets easily.
I also left the sleeve length as is so I can wear the sleeves rolled up.
I've used Prym snaps and they hold really well onto this fabric. I was pleasantly surprised that they're so strong.
Prym has good anorak cord that I've also used in the hood.
This jacket turned out so well. I'm really happy to wear my lace rain jacket.
Make sure you have a squiz at over 270 posts I've written as a Minerva Brand Ambassador.